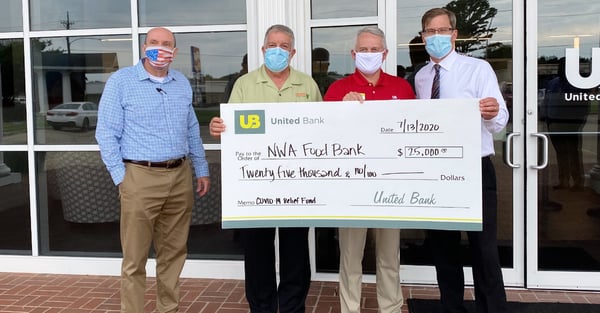 SPRINGDALE, AR, July 15, 2020– United Bank announced today that United Bank and United Built Homes have partnered together and committed $25,000 to the Northwest Arkansas Food Bank's COVID-19 Relief Fund. The funds will provide meals to help ensure no one in Northwest Arkansas goes without a meal.
With more COVID-19 cases than any other part of the state, Northwest Arkansas continues to manage the outbreak's impacts. "Now, more than ever, we need to unify and help those in need during this crisis. This unprecedented situation has added strain on the area's food banks, and it's important that we support these critical lifelines," says Nathan Gairhan, President & CEO of United Bank.
Northwest Arkansas Food Bank is a nonprofit organization located in Bethel Heights whose mission is to nourish Northwest Arkansas communities by feeding the more than 65,000 people in the region who are in need.
About Northwest Arkansas Food Bank
Northwest Arkansas Food Bank (a 501c3 organization) was established in 1988 by a group of concerned citizens who saw the need for hunger assistance in Benton, Washington, Madison, and Carroll counties. In 2019 the Northwest Arkansas Food Bank distributed more than 10.3 million meals. Together with more than 160 partner agencies, we are able to reach out to those in need, providing nutritious food to children, the working poor and senior citizens. The Northwest Arkansas Food Bank is an affiliate of Feeding America and a founding member of the Arkansas Hunger Relief Alliance.
About United Bank
For over 40 years, United Bank has been a locally owned community bank with a geographic focus on Northwest Arkansas. With a dedication to excellence in customer service, the Bank offers a wide array of banking products and services, including FDIC-insured deposit accounts, home loans, personal loans, business loans, cash management services, online banking, and much more. United Bank currently operates four branches; two locations in Springdale, one in Fayetteville, and one in Rogers. As a locally owned and operated financial institution, helping the people of Northwest Arkansas with their financial needs is United Bank's priority and purpose.
# # #
If you would like more information about this topic, please contact Keaton Youngblood at (479) 872-3958 or email at keaton.youngblood@united-bk.com.